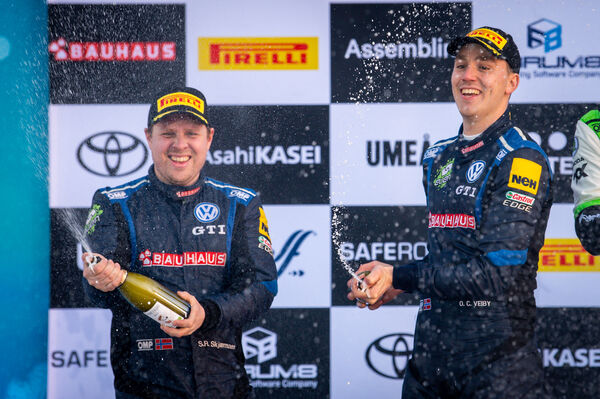 2nd at Rally Sweden
After an incredible close fight for victory, Ole Christian Veiby and Stig Rune Skjærmoen today drove into second place at Rally Sweden. – Our fight with Andreas Mikkelsen has been the coolest fight ever, said Ole Christian after the podium finish.
Ole Christian took an early lead after he set the fastest stage time already on SS2. Continuing the strong performance, the Norwegian duo kept the lead all throughout the day, until a stall on Friday's last stage saw them drop down to second place.
- I have to say I'm really happy with our day, Ole Christian said after day 1. - We've been fastest on 3 of today's 7 stages and going into this final stage we had a 15 second lead ahead of Andreas, we must be happy with that. Such a shame though, that we lost so much on the final stage. I braked just a little too late into the first junction, but was going to save it, it wasn't a big drama at all. But then I stalled, and when trying to restart it wouldn't for a long time.
The two Norwegian pairings continued their battle for victory on the second day, and going into day 3 of Rally Sweden, reigning world champion Andreas Mikkelsen and his co-driver Torstein Eriksen, had a 10 second advantage on Ole Christian. However, Ole Christian was determined to show the battle was not at all over and set the fastest time on Sunday's opening stage. He continued with the strong pace on the next stage and was only 4 seconds behind before the penultimate test. Unfortunately, there they got caught in a snowbank and suffered half a spin. In less than 20 seconds Veiby were back on track, but the time loss meant the battle for victory was over.
- It was all or nothing today, said Veiby. – It was win it or bin it. It was no chance we would secure a second position, we would rather end up deeply in a snowbank! We gave it everything this weekend, so in overall we must be happy with second, but not for one kilometer did we go safe to secure it! We were leading all day Friday, we had 6 stage wins, just very unfortunate that we lost time when we stalled the car on Friday evening. Today we just had to go all in, and I believe we gave Andreas a good fight all the way!
Overall classification WRC2 Rally Sweden
1 Mikkelsen
2 Veiby +23,2
3 Huttunen +1.03,1