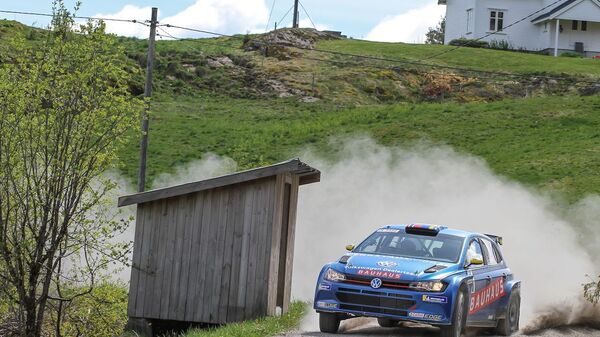 Rally Sørland victory
Ole Christian Veiby with victory at Rally Sørland, after leading the event from start to finish. – Everything worked perfectly from the start, we took the lead early and controlled it to the finish-line!
After 9 stages of very fast Rally Sørland roads, Ole Christian Veiby and co-driver Jonas Andersson claimed their second win of the year in the Norwegian Championship with their Volkswagen Polo GTI R5. – Today everything was perfect! We quickly got in to the rhythm and got the pace from the very first stage. We worked up a good lead and controlled it to the finish-line. Our car was a dream to drive today, our team have made a fantastic job with the set up today!
Ole's team-mate, Johan Kristoffersson, who competed on his very first gravel-rally, were on course for a podium finish together with co-driver Stig Rune Skjærmoen. Unfortunately they were forced to retire with a gear-box fault ahead of the final stage, holding second. – I am so impressed about what Johan have accomplished here on his very first gravel-event, his pace was very impressive!
Rally Sørland was the first gravel event of the season, and also the first gravel event with the Volkswagen Polo GTI R5. Together with co-driver Jonas Andersson, Ole got some important gravel practice ahead of the upcoming Rally Portugal. – It's good to get to grips with the gravel a little bit ahead of Rally Portugal, and it's very important to have that first gravel feeling with the Polo. It's been such a pleasure competing here on these amazing roads. I've just had a fantastic day out in the car and in the forest!
Ole Christian were leading the Norwegian Championship going into this event, and with this victory he keeps his overall lead. Next up for the Norwegian will be the recce for the new WRC event, Rally Chile. Next WRC rally will be Rally Portugal.
Overall classificationRally Sørland 2019
1 Ole Christian Veiby, Volkswagen Polo R5
2 Anders Grøndal, Ford Fiesta +25,3
3 Frank Tore Larsen, Ford Fiesta R5 +29,5
4 Søren Snartemo, BMW M3 +4.59,1
21 Bernt Kollevold, Mitsubishi Evo 9, +9.12,6