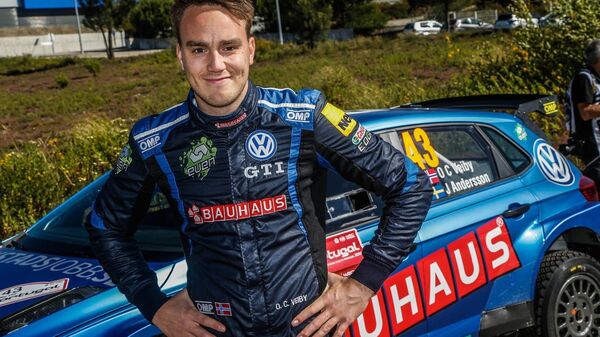 Veiby vie for victory in Sardinia
It's been a quick turnaround after the fire-incident at Rally Portugal, but both Ole Christian Veiby and his Polo are now ready for another WRC gravel event. – The car has been rebuilt completely and we are fully prepared as ever and ready for Rally Italia Sardegna, one of my favorite events actually. 
This will be the third time Ole Christian competes at the Mediterranean island, and after finishing second both times he is very much looking forward to starting what could be the most technical demanding event on the calendar. – Rally Italia Sardegna is a rally I really enjoy! I've done it two times, and both times I finished second. Last year we were leading with more than a minute when we experienced some technical issues and had to finish the day with rear wheel-drive only. We still managed to finish second, and we were fastest on more than half of the stages. The stages are mostly the same this year, so I do feel we know this rally well. And with it being a favorite, it all looks promising.
At the last round in Portugal Ole Christian were holding a comfortable lead when he suddenly was forced to retire after his car caught fire on a stage. Up until the incident he had been fastest on 5 of the 9 stages competed, and by Friday evening he was the fastest R5 car in the overall classification. – I'm so looking forward to picking up where we left in Portugal. I felt we had a good lead, and I'm hoping we can get back that good feeling when start again in Sardinia. The car has been through quite a detailed examination and rebuild, and is now ready for action again.
Ole Christian are currently holding third in the overall Driver standings in the WRC2, after his victory in Sweden and third at Monte-Carlo. He lost the victory in Portugal after the fire, but he is still looking positive on the events ahead. – Our plan was to win most event this year, and we have shown we have the pace, so we will continue with the same goal. We are giving it all again for this one and going for victory!
Itinerary Rally Italia Sardegna 2019
Thursday 13 June
09:00 Shakedown Olmedo (3,92km)
17:00 SS1 Ittiri Arena Show (2,00km)
Friday 14 June
06:00 Service Alghero
08:03 SS2 Tula 1 (22,25km)
09:20 SS3 Castelsardo 1 (14,72km)
10:09 SS4 Tergu – Osilo 1 (14,14km)
11:18 SS5 Monte Baranta 1 (10,99km)
12:14 Service Alghero
14:42 SS6 Tula 2 (22,25km)
15:59 SS7 Castelsardo 2 (14,72km)
16:48 SS8 Tergu – Osilo 2 (14,14km)
18:04 SS9 Monte Baranta 2 (10,99km)
18:40 Service Alghero
Saturday 15 June
05:20 Alghero Service
08:08 SS10 Coiluna – Loelle 1 (14,97km)
09:11 SS11 Monti Di Ala' 1 (28,21km)
10:03 SS12 Monte Lerno 1 (28,03km)
12:35 Service
16:08 SS13 Coiluna – Loelle 2 (14,97km)
17:11 SS14 Monti Di Ala' 2 (28,21km)
18:03 SS15 Monte Lerno 2 (28,03km)
20:35 Alghero Service
Sunday 16 June
07:15 Alghero Service
08:15 SS16 Cala Flumini 1 (14,06km)
09:08 SS17 Sassari – Argentiera 1 (6,89km)
11:15 SS18 Cala Flumini 2 (14,06km)
12:18 SS19 Sassari – Argentiera 2 Power Stage (6,89km)
13:15 Alghero Service
15:00 Podium